iPad Holder by Lumen/ VEL3Z-19A464-A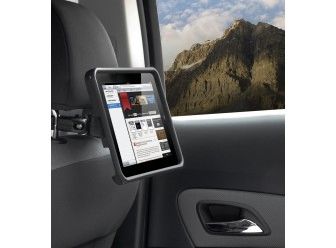 iPad Holder by Lumen/ VEL3Z-19A464-A
· A Handy Way to Mount your iPad® for Backseat Viewing.
· Cradle can be rotated for multiple viewing angles - helps reduce sun glare and accommodates multiple passengers.
· Quick and easy to install and remove.
· Safely and securely holds the tablet while maintaining functionality for watching movies, surfing the web and playing with games or apps.
· iPad® device can be charged while mounted in cradle