2015 MUSTANG GT COUPE TRACK LOWERING SPRINGS/ M-5300-Y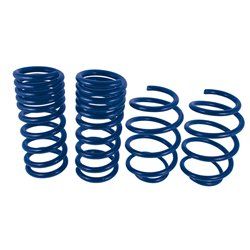 2015 MUSTANG GT COUPE TRACK LOWERING SPRINGS/ M-5300-Y
TECH:
Fits: 2015 Mustang GT Coupe
Designed to work with M-18000-F struts, shocks and M-5490-E sway bars. Not recommended for use with stock shocks/struts
Component of the M-FR3A-M8 Handling Pack
Lowers car approximately 1.0"
Gives a more aggressive-looking stance with a focus on handling and on track performance
High quality manufacturing - produced by OEM spring supplier
Includes jounce bumpers
Will cause slightly harsher ride compared to stock springs
Note: Please reference a Ford service manual for installation information and correct torque specifications. May require alignment after installation.
For 1 lowering springs designed for stock struts, shocks and sway bars see M-5300-X
SPECS:
Package Dimensions: 7.5 x 14.25 x 23.25
Part Type: Chassis: Springs
Instruction Sheet: Not Available
Warranty Availability: Not Available
Country of Origin: United States
California Executive Order: No