2015-2017 MUSTANG STREET HANDLING PACK/M-FR3A-MA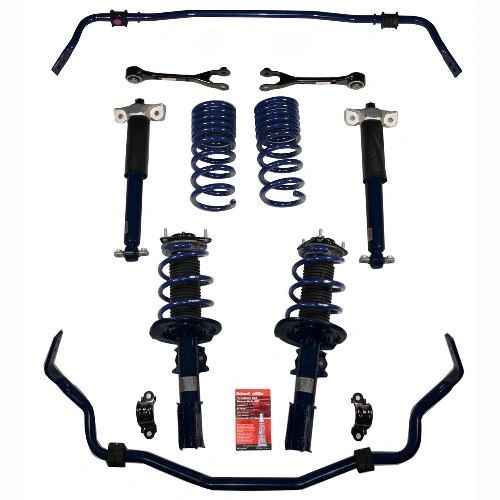 2015-2017 MUSTANG STREET HANDLING PACK/M-FR3A-MA
TECH NOTES:
Ford Performance Part's assembled Street Handling Pack is the perfect suspension system for the driver who wants improved handling and a lower stance but doesn't want or need all of the benefits of the Track Handling pack. The Street Handling Pack includes pre-assembled struts, which do NOT require a spring compressor, and are ready to bolt-in! Give your mustang the look and performance you want with the Street Handling Pack!
Fits 2015-2017 Mustang GT and 2.3L EcoBoost Coupes

All components work together as a package

Lowers car approximately 1"

Gives a more aggressive-looking stance with a focus on handling and street performance
Street Handling Pack includes:
Assembled Front Performance Pack Struts

Performance Pack Rear Shocks

M-5300-X

Street Lowering Springs

Performance Pack Upper Strut Mounts

M-5570-B

Jounce Bumpers (Jounce Bumpers are installed on the assemled Front Performance Pack Struts)

Performance Pack Front and Rear Sway Bars

Performance Pack Rear Toe Links
NOTE: Mustangs that originally came equipped with the Performance Pack option only need to purchase the M-5300-X Street Lowering Springs to achieve the lowered ride height or upgrade to the M-FR3A-M8 Track handling Pack.
NOTE: Please reference a Ford service manual for installation information and correct torque specifications. May require alignment after installation.