2005-2009 MUSTANG GT / 2007-2009 MUSTANG SHELBY GT500 "S" MUFFLER KIT (50 STATE)/ M-5230-S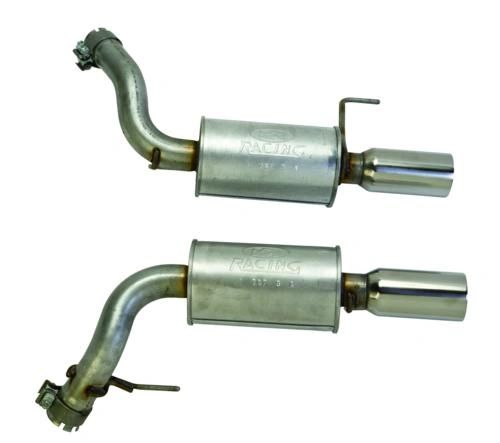 2005-2009 MUSTANG GT / 2007-2009 MUSTANG SHELBY GT500 "S" MUFFLER KIT (50 STATE)/ M-5230-S
TECH NOTES:
Fits 2005-2009 Mustang GT and 2007-2009 Mustang Shelby GT500.

409 aluminized stainless steel corrosion-resistant muffler body construction

Polished 304 stainless steel 3.5" diameter tips

Throatier exhaust note

50 state drive-by noise legal

For 2010 Mustang GT / Shelby GT500 see

M-5230-SA

Note:

409 stainless exhaust material is titanium stabilized ferritic stainless steel. 409 stainless is used in applications where appearance is a secondary consideration to mechanical properties and corrosion resistance and where some weldability is required. An example of 409 stainless usage is catalytic converter assemblies. 409 stainless has excellent forming characteristics and is rust through resistant. A surface rust will form in most instances. This rust retards further corrosion.